Rose Wanat's Sweet Potato Pie
---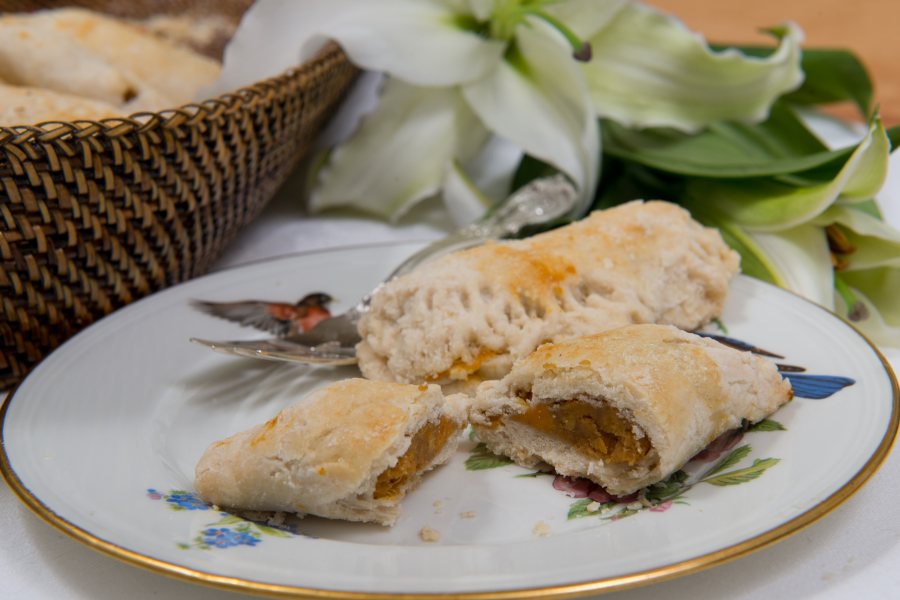 By:  Rose Wanat
Ringgold, GA
3 med. sweet potatoes, cooked and mashed
2 T. butter or margarine
3 tsp. allspice
1 pkg. of 10 refrigerated biscuits (use large biscuits such as Grands or Texas Style)
1. Peel and boil sweet potatoes until tender. Drain. Mix butter and allspice and add to mashed potatoes. Add more allspice to taste.
2. Roll out biscuits on floured board until thin. Fill with potato mixture, about ¼ cup. Fold over and crimp edges. Forms a crescent shape. Cut slits in tops of pies prior to baking.
3. Bake in 350 degree oven for 10-15 minutes. Will keep several days without refrigeration. Good for a snack on a trip. Makes: 8 Servings.
Note: Add 2 tablespoons of brown sugar and 3 tablespoons of sugar to desired sweetness.
TURKEY SURPRISE
Many years ago, Rose Sepulvado Wanat celebrated Thanksgiving with her mother, Christina, in Zwolle.  Rose and her husband, John, and children were traveling in a station wagon.  They departed from Christina's house, forgetting a turkey her mother had for them.  When Christina realized they left the turkey, she had her daughter, Margie Rivers, call another daughter, Verna Ebarb, who lived along the highway and she flagged Rose and family down.  They returned to get the turkey and were surprised to be handed a live turkey.
Chief Thomas Rivers (Rose's nephew)