Pork Chops And Rice
---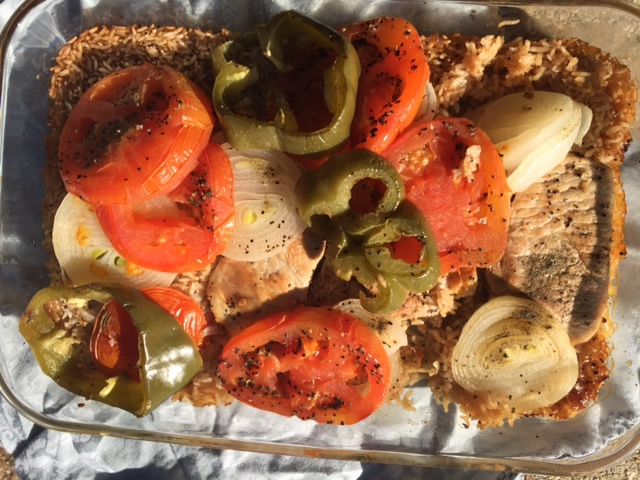 1 c. raw rice
4-5 pork chops
Salt and pepper
Onions, sliced thick
1 can beef consommé
Tomatoes, sliced thick
Green pepper, cut in rings
Pinch of marjoram
Pinch of thyme
Cover bottom of 9" x 13" baking dish with raw rice. If it doesn't cover the baking dish add more rice to it.
Brown pork chops. Lay on top of rice.  Pour pork drippings over rice and pork chops.  Salt and pepper each layer.
On top of pork chops lay thick slices of onions, tomatoes and a ring of pepper.
Pour beef consommé on top and sprinkle  marjoram and thyme.  Cover with foil.  Bake at 350 degrees for 1 hour.
Makes:  5-6 Servings.
GOODMAMA AND THE SHERIFF
Collecting Mom's recipes for this cookbook reminded me of stories about the good old days.  For years, my mom has told the following story that she witnessed.  My sisters and brothers and I never tire of hearing it, which we named, "Goodmama and the Sheriff".
One day, back in the 1940's, the sheriff stopped by my grandparents' house to collect $6.00 for a cow that had gotten out of their fenced pasture.  The sheriff was trying to collect from granddad, while he was sitting in his porch swing, listening to Paul Harvey.  Goodmama comes out with a shotgun and tells the sheriff, "I am going to shoot you if you do not leave because it is wrong what you are trying to do.  If you had asked us, we would have gotten the cow and penned it up."  The next day, the sheriff dies and in deep remorse my grandmother confesses to a priest.   He told her it was not her fault the sheriff died.  In fact, lots of folks had wished him dead!
Karen A. Sloan
Chattanooga, TN