Indian Fry Bread & Indian Taco
---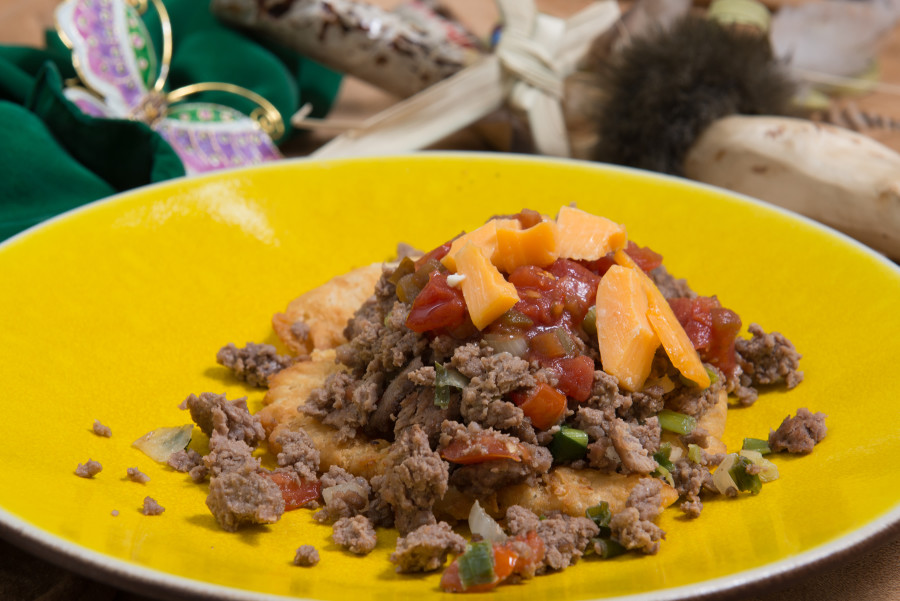 By: Dorsey Ebarb Bronson
Mobile, AL
Buffalo or ground beef
1 (16 oz.) package of ground beef
2 T. olive oil
1 med. onion, finely chopped
1 med. green pepper, finely chopped
1 med. tomato, finely chopped
3 cloves of garlic, finely chopped
1 tsp. chili powder
1 tsp. salt
1 tsp. black pepper
1 tsp. garlic powder
2 c. chopped lettuce
1 fresh tomato, chopped
1 bunch of green onion tops
1 c. shredded sharp cheese
1 1 oz. can black beans drained
2c.shortening
Taco Bread (prepare before cooking ground beef)
1c. warm water

2 c. all purpose flour

1 ¼ c. powdered milk

2 tsp. baking powder

1 tsp. salt

1 T. shortening
Use hands to mix flour, baking powder, powdered milk, salt, shortening and warm water. Knead dough until it is soft but not sticky.  Let it rest for 30 minutes.  Cover bowl with cloth.
Heat oil in a heavy skillet. Season meat with chili powder, garlic powder, pepper and salt. Brown meat, onion, green pepper, tomato and garlic.  Stir often so it is cooked, gently, until done.  Set aside. Must be reheated and served hot.
Divide taco bread dough into 6 balls. Flour a board and roll out into 4" rounds. Fry bread in 5 quart deep pot in 2 quarts of melted and very hot shortening turning once until golden brown. Keep warm in tea towel. Serve hot for best flavor.
To assemble Taco (eat immediately):  Put warm, fry bread on a plate, add cooked and heated meat. Top with black beans, fresh tomatoes, cheese, lettuce, and green onion.  Makes:  6 Servings.