"Cultural-Historical Background  For The Choctaw-Apache of Ebarb"
A compilation of the work of:
Dr. Dayna Bowker Lee (1990)
Van Rheenen (1985)
Shoemaker (1985)
In Louisiana Cooking By Native American Choctaw-Apache, Dorsey Ebarb Bronson intertwines heirloom recipes with oral traditions and family memories to create a vignette of a northwestern Louisiana tribal community with roots in the eighteenth century. The Choctaw-Apache community evolved from the Spanish and Nahua families who established Presidio Nuestra Señora del Pilar de Los Adaes in 1721, and who incorporated enslaved Apache people into the outpost's resident population. After the presidio was abandoned in 1773 and Indian slavery was discontinued, the Adaesaños (the people of Los Adaes) spread out over the local landscape forming small, family-based settlements. A group of Choctaw later joined with the community that developed at Ebarb.
The family recipes presented in Louisiana Cooking By Native American Choctaw-Apache, demonstrate the layering of foodways traditions that took place when cultures combined on the colonial frontier. Dorsey Ebarb Bronson provides a valuable lesson in Louisiana's complex cultural heritage through the culinary history of one of Louisiana's oldest tribal communities.
Dayna Bowker Lee, Ph.D.
New Orleans, LA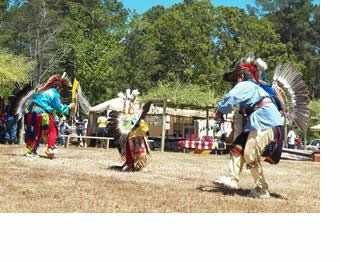 Choctaw-Apache Life (forward) is written by Henry Anthony Ebarb J.D. Ph.D, a tribe elder.  He is the eldest grandson of Dora and Christina Meshell, descendants of the original Choctaw-Apache Tribe Families.  Dr. Ebarb also wrote the
Choctaw-Apache Cookbook's
Epilogue, Making Sugar Cane Syrup, as well as, Matriarch, the story of his American Indian grandmother's deep faith in God.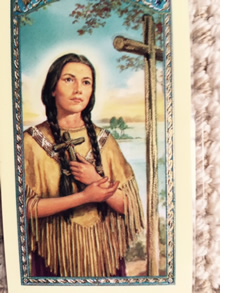 NATIVE AMERICAN SAINT
Saint Kateri Tekakwitha is the patron saint of Native Americans. Choctaw Apache Cookbook family member Mary Helen Carlin expressed her feelings about our first Native American saint. "St. Kateri was a smart woman of great courage and faith, much like the women in our family." Mary Helen, of Baton Rouge Louisiana, grew up on land inhabited by the early Indians in Sabine Parish Louisiana. To honor St. Kateri, the St. Joseph's Church of Zwolle, Louisiana , formed a Blessed Tekakwitha Prayer Group and has a Prayer Garden with her statue . Father Tim Hurd is the pastor who organized the tribute to St. Kateri.
Chief Thomas Choctaw-Apache Fry Bread
By:  Chief Thomas Rivers
½ bowl flour
2 country fresh eggs
½ teacup (less than 4oz.) of lard
A pinch of baking powder or baking soda
Bit of milk
Goodmama and Papa's Recipe
1. Knead dough until you have enough to roll out.
2. Cut the dough into squares.
3. Fry in deep skillet half full of smoking hot lard, a few at a time.
Makes: 8 or more servings.