Louisiana Shrimp Gumbo
---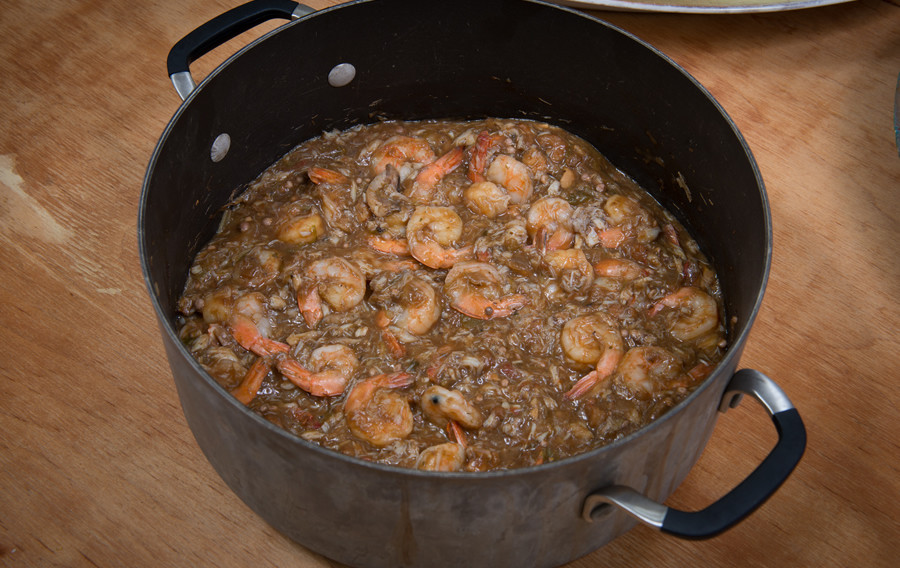 5 lbs. peeled shrimp (Makes:  2 ½ lbs. of shrimp meat) fresh, never frozen
3 cans claw meat, fresh, well picked, not frozen
4 bunches of green onions
1 onion, white finely chopped
2 c. all purpose flour
1 ¾ c. olive oil

2 bay leaves

Rice

Dash of black pepper

1T. fil

é

powder

3 boxes (32 oz.) chicken stock

12 quart pot
Pour oil in skillet, add flour and stir until roux turns dark brown. (Roux takes 15 or 20 minutes of constant attention and stirring over medium to high heat).
There is a moment, just before scorching, when the roux is deep chocolate (Step 5) to black in color – add onions and stir constantly until wilted (Step 6.)
In large pot, heat stock and add roux/onion mixture.  Add claw meat, bay leaves, a dash of pepper, and file' powder.
Cook for 1 hour on low to medium heat.
Heat to a boil, and add shrimp, bring to boil for 2 minutes then turn heat off.  Gumbo freezes well.   Serve in a bowl over rice.
Makes:  About 14-16 Servings.