America's First "Trail of Tears" The Story of The Choctaw-Apache Tribe of Louisiana, Toledo Bend Lake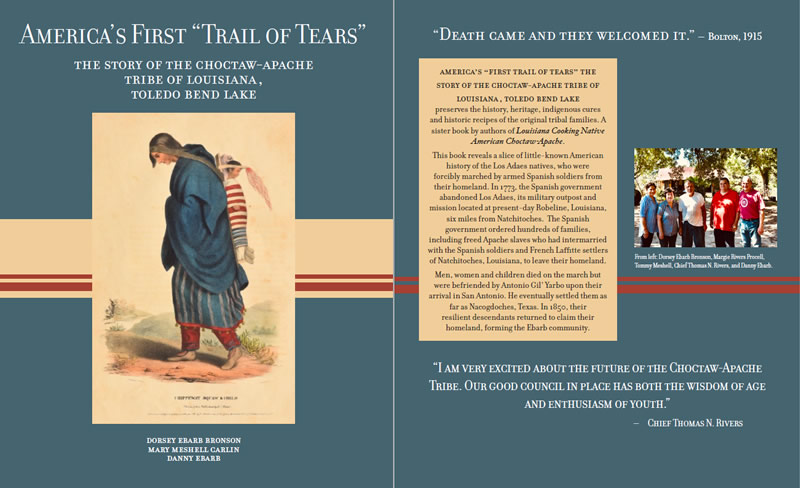 Part I – Roots (290 years)
Part II- Remedies
Part III – Recipes
Genealogy of Tribal Families
Choctaw-Apache Authors Preserve History, Life-Saving Remedies and Ole Timey Recipes In Book

Toothache Remedy-
Tommy Meshell points to missing piece of bark from oak tree on Ebarb ancestral land. Decades ago he removed a splinter from the inside of the bark and applied it to the gum of his painful tooth to stop the pain. A remedy found in America's First "First Trail of Tears."
THE JOURNEY Of THE CHOCTAW-APACHE
"Into the No Man's Land"
by Matthew Carlin
The story of the Choctaw-Apache Tribe weaves into the neglected history of the borderlands between Louisiana and Texas. Upon these grounds around the Sabine River, known to the Spanish as Rio de Sabinas (or Cypress River), our people's saga reaches a powerful episode, when a dark turn tested the persistence of a strong community.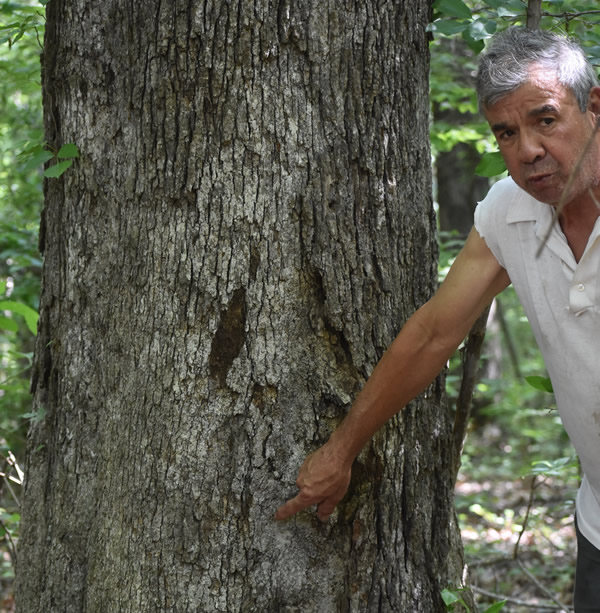 HARD COPY SOLD OUT – DIGITAL VERSION E-EDITION COMING SOON!
$5
All credit cards taken
THANK YOU,
To Contact the author:
Dorsey Ebarb Bronson
E-Mail: dorseybronson@ymail.com
251-604-1832
Chief Thomas Rivers is the elected chief of the Choctaw-Apache Tribe of Louisiana. It is the second largest state recognized tribe in Louisiana. He is pictured at the annual November Powwow leading the Veterans Day flag ceremony.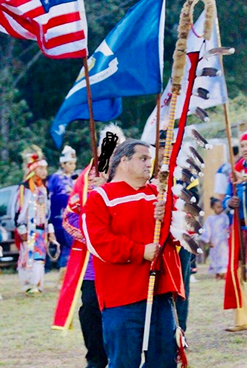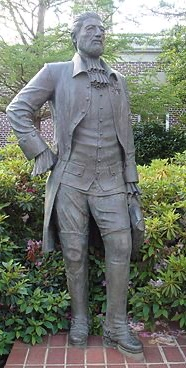 In 1773, Don Antonio Gil Y'barbo (1729-1809) befriended the refugees who had been forcibly marched by armed Spanish soldiers, from their Los Adaes homeland. The Spanish government would not allow the people to return to Louisiana but granted Y'barbo permission to settle them at an abandoned Spanish fort in Nacogdoches, Texas. Over 50 years later, Y'barbo's grandson, Alcario Ebarb, led the descendants of the Los Adaes natives to their ancestral land forming a community that evolved into Ebarb. Alcario is the great grandfather of there book authors.
"I searched for this book, America's First "Trail of Tears," The Story of the Choctaw-Apache Tribe of Louisiana on Toledo Bend Lake. I want to sell it in Books Along The Teche."
– Lorraine Kingston, New Iberia, Louisiana.
"Thank you so much for capturing our Native American culture/history in those two wonderful books." Please accept this Army Coin as a token of appreciation for your support to our Great Nation and the Men and Women who defend our Freedon111" God Bless y'all."
– Joe and Lynne Sepulvado-Kansas
"My staff and I have been leafing through the wonderful images and the recipes. It will be a valuable addition to the museum's collection, as we have many Choctaw baskets. Looking forward to meeting you."
– Nita K. Cole, Curator and Archivist Louisiana State Exhibit Museum-Shreveport
"Yes, the we are interested in your new book and want to sell in the French Market."
– Linda Henderson, Natchitoches, La.
"Dorsey, I received your book today and it is truly wonderful. What a wealth of information y'all have packed into it and pictures are really nice."
– R. Martin Guidry- Baton Rouge
"We are looking forward to adding these to our collection. Thank you for your efforts to write this book.
– Howard L. Coy Jr. Vernon Parish Library
"Good Afternoon, Mrs. Dorsey, I received the book. Great Job! I love the photos and  I love that you included Jana (my best friend from school). "
– R. Cody Bruce PhD  (c), MSN Ed, RN,CNE- Round Rock, TX.
"We look forward to your  presentation on the history of the  Choctaw-Apache  Tribe at the opening of the Zwolle Railcar Museum during the annual October  Zwolle Tamale Fiesta. "
– Edith Palmer, Zwolle
"Dorsey, will you work on the Choctaw-Apache exhibition for the new Many Railcar Museum opening next year? You will be teaming up with Robert Caldwell."
– Mary Brocato, Many Alderwoman at Large.
Lousiana Cooking by Native American Choctaw-Apache
Recipes and Memories with Family and Friends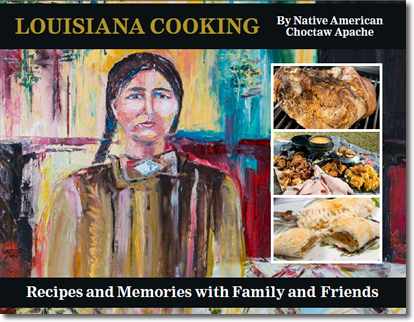 Enjoy over 80 heirloom recipes and real life stories of a Northwestern Louisiana tribal community with roots in the eighteenth century. The author's great, great grandmother graces the cookbook cover.
The print edition of the historic Choctaw-Apache Cookbook is sold out. A Digitial Edition is now available for $5.00. View on this website or download a pdf version for your very on keepsake cookbook. The historic Tribal cookbook preserves recipes and history of the Choctaw-Apache Tribe of Ebarb.
Blackberry Jelly Cupcakes YUM!!

Rosie Meshell Ebarb and husband Tom Meshell Ebarb's vegetable  garden in the backyard of  their Shreveport home, provides jar bounty of fresh  peas, pepper, squash, garlic, onions, watermelons, cantaloupe, and plums. Their heritage garden keeps them connected to their roots in Ebarb, Louisiana. Rosie's blackberry jelly makes delicious icing for cakes and cupcakes. Rosie and Tom are members of the Choctaw-Apache Tribe of Ebarb.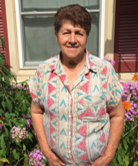 Blackberry Jelly
4 cups of blackberry juice
1 box SURE-JELL fruit pectin
1/2 teaspoon butter
4 cups sugar
1. Wash jars thoroughly and place in hot water until ready to use.
2. Crush berries. Pour fruit into damp cheesecloth, tie it closed; hang and let drip into bowl until it stops. Press gently. Measure 3 ¾ cups juice into saucepan.
3. Stir pectin into saucepan with juice. Add butter to reduce foaming. Bring to full boil. Stir in sugar, return to boil and stir constantly for 1 minute. Remove from heat and remove any foam.
4. Ladle into jars with ¼ inch from the top. Cover with lids and screw bands tightly. Place jars on elevated rack., water must cover jars 1-2 inches. Cover and bring to boil. Process 5 minutes. Remove jars and cool. Make sure lids are well sealed.
CUPCAKES..Almost any cake batter bakes either mini or muffin size cupcakes. Follow directions. Reduce cooking time for mini ones. To keep from sticking use parchment baking cups in your muffin pans. Non-stick.