America's First "Trail of Tears" The Story of The Choctaw-Apache Tribe of Louisiana, Toledo Bend Lake
Part I – Roots (290 years)
Part II- Remedies
Part III – Recipes
Genealogy of Tribal Families
America's First "Trail of Tears,"  The story of the Choctaw-Apache Tribe of Louisiana, preserves the history, heritage, indigenous cures and historic recipes of the original tribal families.
This book reveals a slice of little-known American history of the Los Adaes natives, who were forcibly marched by armed Spanish soldiers from their homeland. In 1773, the Spanish government abandoned  Los Adaes, its military outpost and mission located at present-day Robeline, Louisiana, six miles from Natchitoches.
Los Adaes served as the first capital of Spanish Texas (1729-1773) and was located 30 miles east of the Sabine River in northwestern Louisiana.The families of Los Adaes, freed Apache slaves who intermarried with the French and Spanish locals, were ordered to   leave in five days  by the Spanish Governor. They left their crops in the fields and began a 400 mile trek to San Antonio. Many men, women and children died on this first "Trail of Tears".
Two months later, the  refugee survivors arrived in San Antonio without a place to settle. A young Spanish  soldier,  Antonio Gil Y'barbo (1729-1809), who was born at Los Adaes and  married to a part-Indian wife, befriended them. He received permission from the Spanish Government to take charge of the people. He  eventually was able to move them back toward their homeland, settling  them for over 50 years  in Nacogdoches, Texas. New  generations were born, including the Choctaw great grandmother of the three book authors, Dorsey Ebarb Bronson, Mary Meshell Carlin and Danny Ebarb.
After the death of Y'barbo, in 1850 his grandson, Alcario Ebarb, led the descendants of  Los Adaes natives  back to their  ancestral homeland in the piney woods wilderness of northwestern Louisiana near modern-day Toledo Bend Reservoir. The story of the Choctaw-Apache Tribe of Louisiana, in addition to telling the shameful tale of a suffering people, captures in photographs how they lived in their ancient land. The book also features the life-saving herbs and plants and many of their historic made-from-scratch recipes.
Read more about the Authors and the Book!
ORDER NEW BOOK
Book shipping upon availability prior to book launch at the Choctaw-Apache Powwow. Buy Now: $25 (inlcudes shipping)- Proceeds benefit Choctaw-Apache Tribe's Federal Recognition Petition expenses.
THANK YOU,
To Contact the author:
Dorsey Ebarb Bronson
E-Mail: dorseybronson@ymail.com
251-604-1832
Chief Thomas Rivers is the elected chief of the Choctaw-Apache Tribe of Louisiana. It is the second largest state recognized tribe in Louisiana. He is pictured at the annual November Powwow leading the Veterans Day flag ceremony.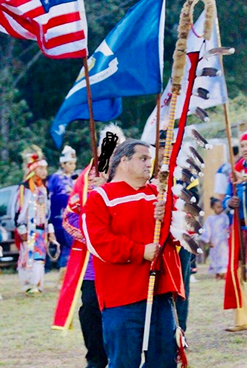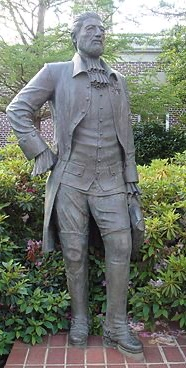 In 1773, Don Antonio Gil Y'barbo (1729-1809) befriended the refugees who had been forcibly marched by armed Spanish soldiers, from their Los Adaes homeland. The Spanish government would not allow the people to return to Louisiana but granted Y'barbo permission to settle them at an abandoned Spanish fort in Nacogdoches, Texas. Over 50 years later, Y'barbo's grandson, Alcario Ebarb, led the descendants of the Los Adaes natives to their ancestral land forming a community that evolved into Ebarb. Alcario is the great grandfather of there book authors.
Lousiana Cooking by Native American Choctaw-Apache
Recipes and Memories with Family and Friends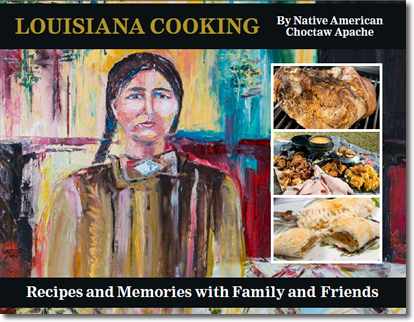 Enjoy over 80 heirloom recipes and real life stories of a Northwestern Louisiana tribal community with roots in the eighteenth century. The author's great, great grandmother graces the cookbook cover.
The print edition of the historic Choctaw-Apache Cookbook is sold out. A Digitial Edition is now available for $5.00. View on this website or download a pdf version for your very on keepsake cookbook. The historic Tribal cookbook preserves recipes and history of the Choctaw-Apache Tribe of Ebarb.
Blackberry Jelly Cupcakes YUM!!

Rosie Meshell Ebarb and husband Tom Meshell Ebarb's vegetable  garden in the backyard of  their Shreveport home, provides jar bounty of fresh  peas, pepper, squash, garlic, onions, watermelons, cantaloupe, and plums. Their heritage garden keeps them connected to their roots in Ebarb, Louisiana. Rosie's blackberry jelly makes delicious icing for cakes and cupcakes. Rosie and Tom are members of the Choctaw-Apache Tribe of Ebarb.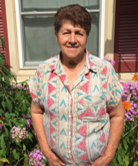 Blackberry Jelly
4 cups of blackberry juice
1 box SURE-JELL fruit pectin
1/2 teaspoon butter
4 cups sugar
1. Wash jars thoroughly and place in hot water until ready to use.
2. Crush berries. Pour fruit into damp cheesecloth, tie it closed; hang and let drip into bowl until it stops. Press gently. Measure 3 ¾ cups juice into saucepan.
3. Stir pectin into saucepan with juice. Add butter to reduce foaming. Bring to full boil. Stir in sugar, return to boil and stir constantly for 1 minute. Remove from heat and remove any foam.
4. Ladle into jars with ¼ inch from the top. Cover with lids and screw bands tightly. Place jars on elevated rack., water must cover jars 1-2 inches. Cover and bring to boil. Process 5 minutes. Remove jars and cool. Make sure lids are well sealed.
CUPCAKES..Almost any cake batter bakes either mini or muffin size cupcakes. Follow directions. Reduce cooking time for mini ones. To keep from sticking use parchment baking cups in your muffin pans. Non-stick.